NIYC's Aims & Objectives
The Forum was established to give young Muslims the chance to express themselves, tackle the issues of living in a 21st century multi-cultural society, understand and address the needs of the wider community, within the teachings of Islam (Qur'an and Sunnah). The Forum aims to promote the values of the Muslim faith amongst the young and old, while challenging current ideology and improving self-esteem among the Muslim community.
The Forum also aims to provide young Muslims with training, help, advice and skills to face today's challenges, whilst also enlightening them with the beauties of the Islamic faith, to nurture outer (actions) and inner (spiritual) purification.
The Forum aim's to help divert youngsters away from crime and negative influences and get them to engage in faith, community and sports projects, to further break down barriers between the Muslim community, the wider community, religious establishments and agencies of local and national government.
The Forum wants to raise the aspirations of Muslims and promote their increased engagement with mainstream society. Thus helping not only the Muslims themselves, but also create better and wider understanding of Islam and Islamic culture, which would benefit the community as a whole.
The Forum's focus and target will be primarily to benefit members (and their families) of the Islamic Educational Society (Noorul Islam herein after called IES), thereafter anyone that would be an influence to these members (and their families) e.g. those attending the Masjid / Madrassa, and neighbouring Masjids etc.
MOBILE APP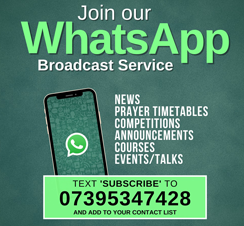 LIVE STREAMING


Click here or use above player
CB Frequency 454.250