Al Islah School Fees
First child - £1230
Second child - £1130
Third child - £1030
Note: Discount is for children from the same parents.
Payment is due on the following months:
If payment is not made by the dates above, a £10 administration charge will be incurred.
The admission fee - £200 – must be paid when the place is offered, and if for any reason you decide not to send your child to Al-Islah School after you have paid the admission fee - the admission fee will not be refunded.
If you decide to take your child out of the school before the end of an academic year, then any outstanding fees will be due. Please note if you have already paid the full fee for the year no refunds will be given. If you pay in instalments (term-by-term) and or decide to take your child out of the school before the term ends, no refund will be given.

All fees have to be paid according to the information in the fee table above. If payment is not received reminders will be sent. If you have difficulty in paying the fees please contact the school to discuss the matter.

All fees incurred for External Examinations e.g. GCSE Examinations are to be paid by the parents. No refunds will be given if your child leaves the school before the exams are written and there are no refunds if your child is absent from the examinations.
MOBILE APP


WHATSAPP ALERT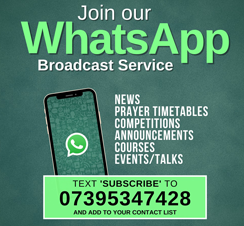 LIVE STREAMING
CB Frequency 454.250
Listen to our Live Broadcast on MOBILE
Listen to our Live Broadcast on DESKTOP