Al Islah Admissions Procedure
Al - Islah School works with parents and primary schools to make the application and transition phase as smooth as possible.
ALL ADMISSIONS MUST BE MADE THROUGH THE SCHOOL OFFICE.
Admission forms are available in the school office and Noor-ul-Islam Masjid from Monday to Friday 9.00am to 2.30pm.
Admission form should be filled in and submitted to the school either by person or by post.
Admissions to Year 7 are granted on the basis of Entrance Examination Results.
Entrance exams will be conducted in Maths and English for students seeking admission to Year 7.
The subject teachers mark papers and the head teacher sends a letter and the results to all the students who sat the examination.
Head teacher and coordinator will participate in the primary liaison process.
Admission to Year 8, 9, 10 and 11 are based on report of Attendance, Behaviour and Assessment from the previously attended school.
The Head teacher and the Coordinators will carefully monitor the admission numbers each year
S.E.N – Special Educational Needs
The school is unable to cater for children on a S.E.N programme or those who may need any additional care. The school cannot provide for their additional needs due to financial restraints. The school cannot provide one-to-one support with a teacher assistant.
It would be very unfair and unjust to the child not to receive this special support. The state sector would be the best provider.
EAL – English as an Additional Language
We recognise that pupils who are bilingual or have English as their second language may be working at a different level. We regret that we cannot admit pupils who at an early stage need to learn English.
MOBILE APP


WHATSAPP ALERT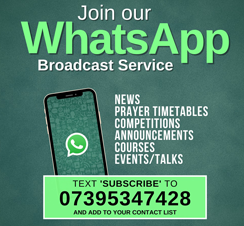 LIVE STREAMING
CB Frequency 454.250
Listen to our Live Broadcast on MOBILE
Listen to our Live Broadcast on DESKTOP