Introduction
Madrassa NI has been providing religious education to the Muslims of Blackburn and surrounding areas since the early 1960s, which is when Muslims migrated over from the Indian subcontinent post WWII to primarily work in the cotton industry of West Lancashire.

Alhamdulillah, Madrassa NI has flourished in abundance since its humble beginnings. It currently has some 550 pupils on roll from the age range of 4 ½ to 19 years. Academic performance has always remained high with the grace of the almighty and thus in turn demand for places has constantly remained high also. Despite phases of expansion of the years, additional space will be sought to accommodate the demand in the future.

The timings are 4.30pm to 8pm, with extra-curricular, booster and support classes held at weekends also.

The subject areas that are taught are:
Qurainic Recitation and its associated science of Tajweed/Optimal Recitation.

Qurainic Memorisation and its associated science of Tajweed/Optimal Recitation.
(100s graduating and being amongst the NI Alumni).

Haddeth. Prophetic Traditions.

Fiqah. Jurisprudence & Shariah/Divine Law.

Aqeedah. Articles of Creed & Beliefs.

A'dab. Etiquettes, Mannerisms, & Morality.

Exegesis. Tafseer & Interpretation of the Holy Quran & sources of Shariah.

Languages; Urdu and Arabic language literature with Etymology and Syntax.

Optional weekend support for UK National Curriculum subjects also furnished and encouraged.
The subject areas are taught by a team of professionally qualified DB/CRB cleared scholars, (Alims, Alimas/Appas and Muftis), (headed by a Principal), whom have attained specialism in the relevant subject areas.
Teacher training sessions are also held at quarterly intervals, which forms part of the CPD scheme, with ongoing assessment and appraisal, with annual and bi annual examinations and parents evenings (for open and continuous one to one communication), and thus ensuring optimal achievement and the meeting of the prescribed syllabus targets.
A variety of tools have been adopted and adapted for the usage as materials; whiteboards, lesson planning, flipcharts, computers, multimedia, and text books.
A Child Protection policy is also in place ensuring the physical and mental well being and welfare of every child with a 'zero tolerance' policy on bullying also.
A behaviour management policy, (BMP), is also in place, where there is recognition and reward for good behaviour and the discouragement of the contrary with remedial options, which often acts as deterrents.
Partnerships have also been forged with the local schools, thus promoting a 'child centred' approach to teaching and learning, with regular visits from the staff of local schools, exchange visits, and the sharing of good practice.
The philosophy and mission statement of Madrassa NI is to nurture tolerance, conscientiousness, and devotion to one's faith with pragmatism in a multi cultural UK.
MOBILE APP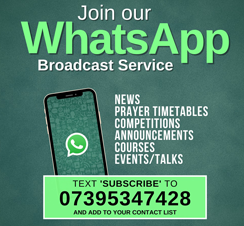 LIVE STREAMING


Click here or use above player
CB Frequency 454.250