Week 4 - Eid Arts and Crafts
Unders 7s - Eid Arts and Crafts. Click here to download Lantern Template PDF.

Under 10s - Eid Day Sunnats Poster

Under 14s - Islamic Arts and Mosaic Design

Please email your entry to competitions@mni.org.uk by 5pm on Friday 22nd May.

In the subject bar please include which category you are applying under.

Please include participant name, a contact name and contact number of a parent/guardian in your entry if you are under the age of 16, or your entry will not be judged.


Winners to be announced on Sunday 24th May and displayed on this page.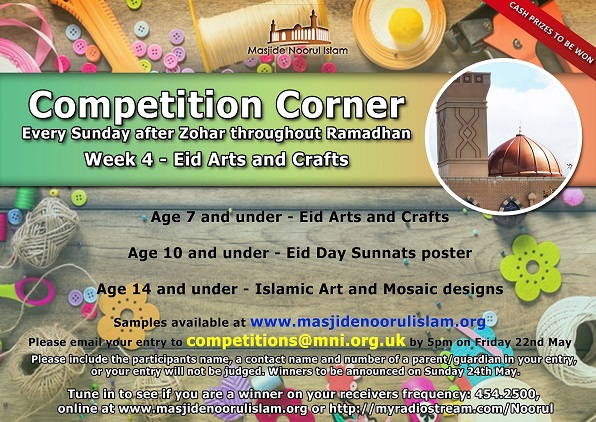 MOBILE APP


COVID 19 SUPPORT
Click here for more details on donating or joining our volunteer team
LIVE STREAMING
CB Frequency 454.250
Listen to our Live Broadcast on MOBILE
Listen to our Live Broadcast on DESKTOP

Important Contacts
Masjid - 01254 262 852

Madrasa - 01254 261 573

Al Islah - 01254 261 573

Bereavement & Funeral - 07578 389 796